The 2021 UCSB Campus Elections include a support fee for Counseling & Psychological Services (CAPS) and Career Services. This combined fee helps provide both departments with funds that support ongoing programming and services for students. We ask for your support in reaffirming this fee. 
What is the fee amount?
$5.85 per quarter. 
What is the purpose of this fee?
At CAPS, this fee allows for us to continue in our mission to assist students in achieving academically, socially, and personally through culturally responsive mental health services. The funds support programs like our Group Counseling offerings, our Mental Health Peer Program, our 24/7 phone consultation service, and all services that are available to students at no additional cost. 
Why is this a combined fee between CAPS and Career Services?
Up until 2005, CAPS and Career Services were one single department - Counseling & Career Services. Since then, both departments have grown into robust, comprehensive departments on their own. While the services are different, the focus of both departments remains to support students through their educational experience. For more information about the Career Services portion of the fee, click here. 
Why #WeAreCommunity?
Our departments and Division of Student Affairs are committed to working towards supporting students. Services have evolved to meet the needs during this global pandemic, and we look forward to finding ways to transition back when it is safe to do so. A vote to reaffirm these fees is a vote for our community. Whether or not you choose to use our services, we know how many students are impacted positively by the availability of support services on campus. We want to thank you for making this possible. 
How do students vote?
Voting will happen between April 19 and April 22, 2021
Image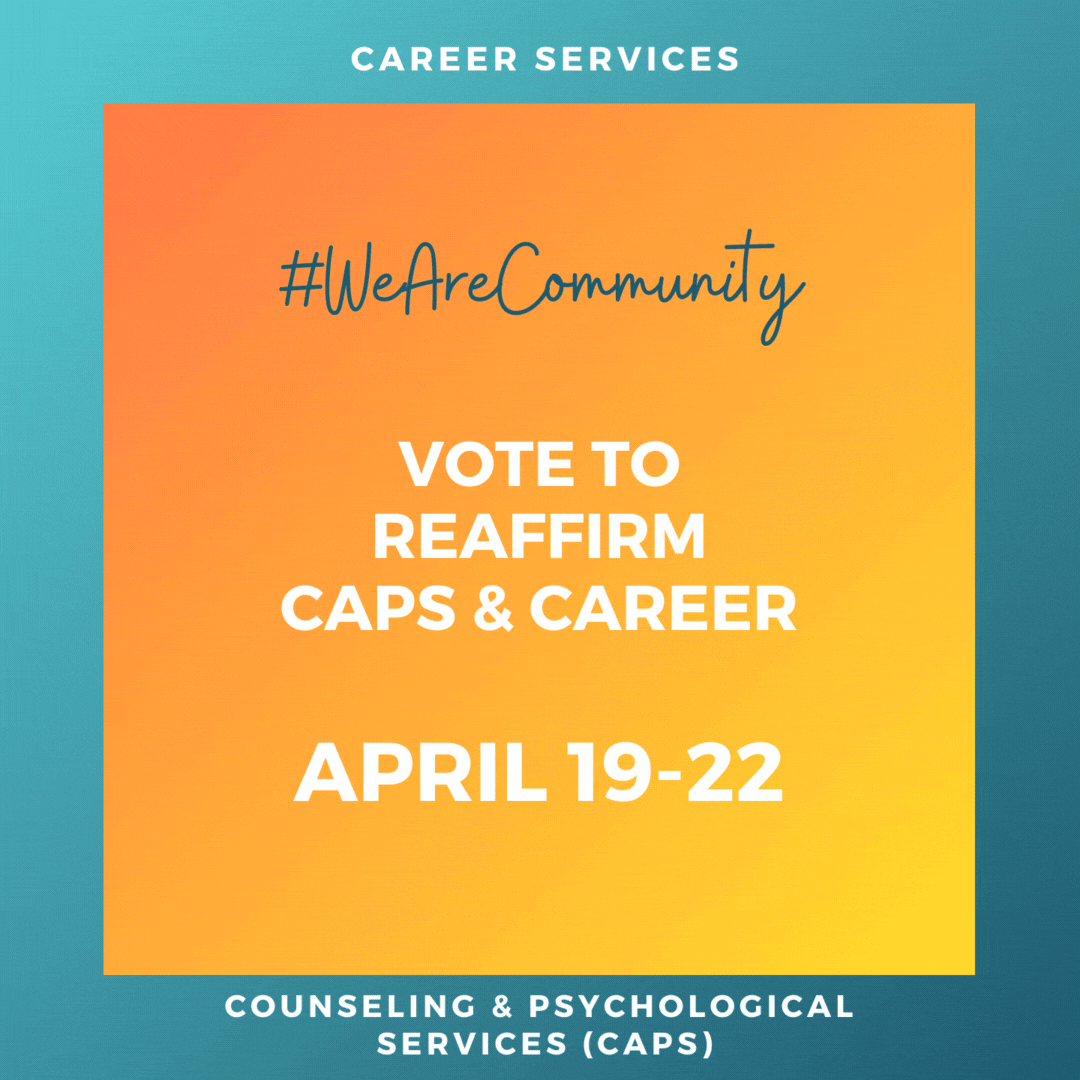 Pro Statement from Students
"CAPS is an invaluable service for students who are in need of support during their college experience. From one-on-one counseling, group therapy, to working with the Mental Health Peers, CAPS offers a wide array of services to students to best fit their needs. College can be a difficult time for many, having to navigate transitions, dealing with interpersonal issues, academic-related stress, and more. Having CAPS as a resource is vital to the wellbeing of UCSB students. CAPS services are offered free of charge to any student, making it the first time many are able to obtain metnal health services. WIth the pandemic, more than every students are needing additional support as mental health concerns for college-aged students have increased significantly. Keeping CAPS available to all students is paramount."
"It is far too often that mental health is stigmatized in the communities that need access to it the most. For this reason, finding ways to advocate for student mental health services can be difficult, but by voting yes in favor of the CAPS support fee, you create an avenue for many minority and disadvantaged student to take refuge in mental health support. CAPS is a free, on-campus resource that provides assistance for students going through some of the most difficult life transition. It houses a team of counselors who are trained and dedicated to providing our students with the support they need to have a successful academic career. Oftentimes what is learned through CAPS helps students navigate life even after college. Your continued support aids in this impact on student life and seeks to remind students that mental health is a crucial component in achieving and maintaining succes." 
Pro Statement from CAPS Leadership
The mission of CAPS is to assist the student body to achieve academically, socially, and personally through culturally responsive mental health services. We approach our work both comprehensively and collectively. We work with our students' many intersectional identities. We engage students via our work in crisis intervention, initial assessment, individual and group therapy. We also work with concerned community members who notice signs of distress and reach out for help. We are working diligently to increase the diversity and cultura/language responsiveness of CAPS staff. Voting "yes" will ensure continued improvement in providing services and follow up.