The 2022 UCSB Campus Elections include a support fee for Counseling & Psychological Services (CAPS). This fee helps provide both departments with funds that support ongoing programming and services for students. We ask for your support in reaffirming this fee. 
What is the fee amount?
$37.90 per quarter. 
What is the purpose of this fee?
At CAPS, this fee allows for us to continue our mission to assist students in achieving academically, socially, and personally through culturally responsive mental health services. The funds support programs like our Group Counseling and Workshop offerings, our Mental Health Peer Program, our 24/7 phone consultation service, and all services that are available to students at no additional cost. 
Why #WeAreCommunity?
Our department and the Division of Student Affairs are committed to working towards supporting students. Services have continued to be responsive to the needs of students since the start of the global pandemic. As students return to campus, we recognize the need to provide hybrid services to honor the varying needs of students at this time. A vote to reaffirm these fees is a vote for our community. Whether or not you choose to use our services, we know many students are impacted positively by the access and availability of support services. We want to thank you for making this possible. 
How do students vote?
Voting will happen between April 18 and April 22, 2022
Image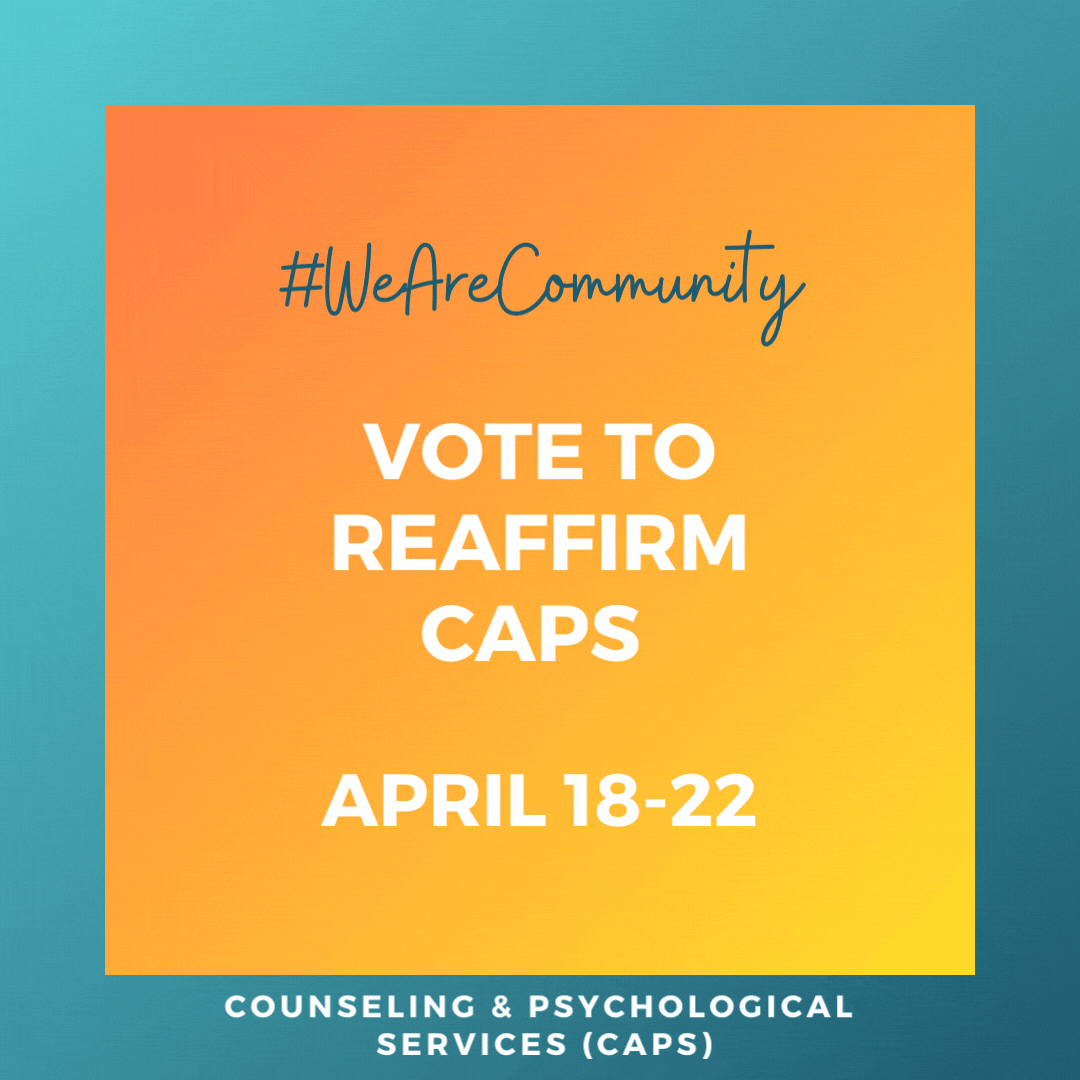 Pro Statement from Students
"CAPS services as a valuable and unique resource for students who are in need of support as they navigate their college experiences. The services provided by CAPS clinicians are designed to help students achieve and maintain success during college by directing them to the appropriate resources and collaborating to develop a plan that best fits their needs. By voting yes in favor of the Counseling and Psychological Services support fee,  you are helping students of all backgrounds have access to these services that are pivotal in achieving their success. Mental health is already stigmatized in several communities, and for some, seeking CAPS services may be the first time they seek refuge. CAPS services are covered by student fees and include more than traditional therapy, but also group counseling, the Mental Health Peer Program, and outreach events. Help make an impact on your success today by voting YES in favor of CAPS."
Pro Statement from CAPS Leadership
"The mission of Counseling and Psychological Services (CAPS) is to assist the student body to achieve academically, socially, and personally through culturally responsive mental health services. We approach our work both comprehensively and collectively. We work with our students' intersectional identities including BIPOC and APIDA students, veterans, graduate students, first generation, foster youth, LGBTQI+ students, student parents, athletes, re-entry/transfer students, and international students. We engage students via our work in crisis intervention, initial assessment, individual, and group therapy. We also work with concerned parents, professors, friends who notice signs of distress, graduate advisors, and other campus community members who reach out for help. We have recently increased the diversity of our staff and your ongoing support allows us to maintain and increase our diversity and cultural/language responsiveness. Voting "yes" for CAPS will ensure continued improvement in providing initial services and follow-up. Supporting CAPS supports the Community."